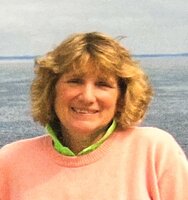 Patricia Y. Sayles
Patricia Y. Sayles, 73, of Dayville, died Sunday September 4, 2022 at home after a courageous battle with cancer. She is survived by her husband Robert Sayles of Dayville, CT who was her loving, caring partner and best friend. She was born August 7, 1949 in New York, New York, daughter of the late Clement and Nancy (McHugh) Young.
She was a parishioner of St. James Church Danielson, CT. Patricia earned a Bachelors degree in History from UCONN in 1971. She worked for Idle Wild Foods Inc. for 23 years as customer service manager. After a variety of endeavors and adventures she retired from Frito-Lay Dayville, CT in 2016. She was Secretary of VFW 1523 Auxiliary. She enjoyed reading, golf, long walks and taking care of her cat "family". She lived each day with joy, energy, courage and kindness.
In addition to her husband, she is survived by stepdaughters Jerilyn Trahan (Mark) and Kelly Vallone (Michael) both of Brooklyn, CT, four grandchildren Meaghan Daley, Taylor Trahan, Courtney Trahan and Drew Daley, four siblings Nancy Talbot and Katherine Young of San Diego, CA, Suzanne Harris of Lacey, WA and Peter Young of Big Pine, CA.
At her request Funeral services will be private and held at the convenience of her family.
Memorial donations can be made to PAWS Cat Shelter Inc. PO Box 31, South Woodstock, CT 06267 or NECCOG Regional Animal Service, 125 Putnam Pike, Dayville, CT 06241. The family would like to thank Dr. Newton and all the nurses at Smilow Cancer Clinic in Waterford and all the Hospice Workers at Day Kimball Hospital. Share a memory at Gagnonandcostellofh.com