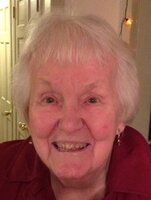 Janet T. Phaneuf
Service Announcement
Janet and Lawrence Phaneuf's Graveside service will be Saturday, May 28, 2022 at 11:00AM at St. Mary Cemetery, Putnam, CT. Janet died in 2020 and Lawrence died in 2006.
A celebration of life will follow.
Janet Theresa Phaneuf died on June 7, 2020 of natural causes. Janet was born March 24, 1933 on Church Street in Putnam and lived within two houses of her birthplace her entire life. Her parents were John J. and Pauline A. (Labossiere) O'Brien of Putnam. She is pre-deceased by her husband of 49 years, Lawrence U. Phaneuf, Jr.
She leaves her daughter, Susan P. Phaneuf and son-in-law, Michael F. Chrzan of Putnam. She also leaves her brother-in-law, Bernard Phaneuf and sister-in-law Janice Phaneuf of Woodstock, sisters-in-law Constance Black of East Hartford, Elizabeth Phaneuf and Esther Phaneuf, both of Woodstock, 9 nieces, 4 nephews and many cousins.
She graduated from Putnam Catholic Academy in 1951 and was salutatorian of her class. Her education continued at Annhurst College where she majored in business and secretarial science, graduating with an A. S. degree in 1953.
While a student, Janet worked part-time at the Day Kimball Hospital. After college she was employed as an executive secretary at the Frank Parizek Manufacturing Company. She then devoted her time to raising her daughter and managing all financial aspects of her husband's business, Larry's Plumbing & Excavating as well as her father's business, John's Package Store. She worked in the accounting office at Bugbee's for eight years. When Janet sensed her place of employment may close she applied to the Putnam Public Library and was offered a position as librarian just three weeks later. She began work on November 23, 1982 and retired on April 30, 2015.
Janet 's favorite hobby was reading and she especially enjoyed history and mysteries. In her younger years she enjoyed playing softball, bowling, roller-skating and square dancing. She loved traveling whether it was a drive in the country or a three-week road trip. She and Larry had many friends and visited with others regularly. They often hosted card games that ran into the wee hours. In the 1980's, Larry completed restoration of his midget racing car and joined the Atlantic Coast Old Timers. Janet occasionally accompanied him to meets, and before long a number of other spouses came to meets as well. The car meets evolved into somewhat of a family gathering.
In general, she was open to new things and willingly obliged when asked if numerous pets could take up residence in the house. She raised and cared for canaries, parakeets, lovebirds, mice, tropical fish, turtles, rabbits, cats, ducks, chickens, guinea hens and geese. She also supported Larry's decision to adopt two horses, which led to more horses, a bull, a cow and a mule. She fed the birds and squirrels that frequented her yard and truly enjoyed watching their antics.
Janet was known to be the unofficial photographer within any group. Susan was an only child though many believed Janet had several children. Friends were always welcome and she enjoyed opening the home to others. She was often asked and usually agreed to be the chaperone on school field trips and volunteered at the St. Mary School library. She became leader of a 4-H club for six years, arranging outings, teaching cooking and manners.
In lieu of flowers donations to "Connecticut Audubon Society addressed to the Center at Pomfret, PO Box 11, Pomfret Center, CT 06259.
Services and mass will be scheduled at a later date. Smith and Walker Funeral Home is handling arrangements.