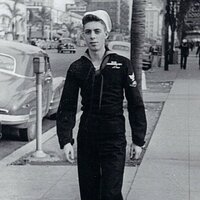 Armand Ouillette
Armand Philip Ouillette, 95, passed away on January 13, 2022 at Pierce Memorial Baptist Home in Brooklyn.
Armand was born on July 14, 1926 in Brooklyn. His parents were Alphonse and Alice (Bernier) Ouillette. He spent his childhood in the "Quebec Square" section of Brooklyn among many other French-Canadian families.
During WW II, Armand left high school and enlisted in the Navy at the age of 17. He was a radio operator on the USS Todd (AKA-71) in the Pacific until the end of the war. He then returned to Brooklyn and finished his education at Killingly High School, graduating with the class of 1947.
In May of 1949, he married Margaret Bachand of Jewett City. Margaret and Armand settled on Christian Hill Road in Brooklyn where they raised their five children. They would remain in this same home, which became a center for their extended family, for nearly 70 years.
Armand was a machinist for Kaman Aerospace in Moosup for most of his career, but his family was the true center of his life. He became a grandfather to nine and was a major part of all of their lives, attending countless band concerts, birthday parties, and graduations. He also enjoyed his fifteen great-grandchildren. In his retirement, he was a voracious reader, enjoyed throwing horseshoes, building stone walls and watching the New England Patriots and UCONN basketball games. He always enjoyed long conversations over coffee with family and friends.
Armand was predeceased by his wife Margaret, his son John, and his grandson Abram. He is survived by two sons: Lawrence Ouillette of North Grosvenordale and Francis Ouillette of Danielson, two daughters: Lois Platt of Pomfret, and Joy Agger of Jacksonville, Florida. His grandchildren include Nathan Platt and Jennifer (Platt) Gehrke of Fairbanks, Alaska, Rebecca (Platt) Denslow of Washington, New Hampshire, Hope (Platt) Bickmeier of Gaylord, Michigan, Lt. Colonel (USAF) Seth Platt of Germany, Nancy (Ouillette) Scott of Warren, Pennsylvania, Renee Agger of Greer, South Carolina and Katrina Agger of Jacksonville, Florida.
A graveside service will be held in the spring at the family's convenience.