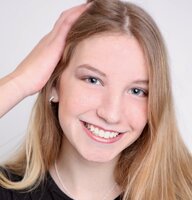 Amanda Kaylie Currie
Amanda Kaylie Currie, 16, passed away unexpectedly on Wednesday, January 5, 2022. Amanda was born in Milford, Massachusetts, on May 4, 2005.
Throughout the years, Amanda had her hands in various activities, including horseback riding, dancing, cooking, cross country/track, skiing, school choir, and ceramics. However, her main passion and joys in life were basketball, shopping, being with her family and friends, taking care of her pets, and watching movies with Dad. She was a young lady so excited about high school, her new job, and one day following her dreams.
Amanda had a monumental impact on her family, friends, and community. Amanda's smile was infectious, and her presence would light up any room. She was the perfect daughter, sister, granddaughter, niece, cousin, and friend. Amanda was thoughtful, witty, sweet, loving, and kind. Her heart and soul were pure and innocent. Although her time in this world was short, we know that she rests peacefully with God for eternity. She will be greatly missed by all who were touched by her and she will be forever loved.
Amanda leaves behind her parents Tracey and John, brother Johnny and his girlfriend Victoria, and brother Cody. She also leaves Grandma Sheila, Nana and Papa Peltier, and Uncle Travis. Along with her cousins Matt, Ryan, Brendan, and Allie Peltier. Amanda leaves her best friends, Ellie, Abby, and Brooke along with Sophia, Maggie, Ella, Isabel, Emma and countless others.
The Currie Family would like to thank the community of Woodstock for the love and support you have provided them during this difficult time. It shows the enormous impact Amanda had on all our lives and hearts. The family has asked that in lieu of flowers, donations be made to Paws Cat Shelter, Woodstock CT in their daughter's honor.
Calling hours will be Monday, January 10, 2022, from 10:00 AM to 12:00 PM with a Memorial Mass at 12:00 PM at St. Mary Church of the Visitation, 218 Providence Street, Putnam. Following the Mass there will be light refreshments in the Church Hall. Share a memory at www.smithandwalkerfh.com