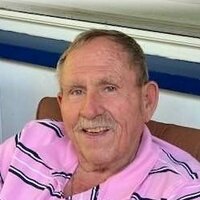 John M. Paquette
John M. Paquette, 69, of Pomfret Center died December 31, 2021, at Hartford Hospital. He was the beloved husband of Martha (Walker) Paquette. John was born October 27, 1952, in Baltic, CT, son of the late Maurice and Rose (Bessette) Paquette.
John was a man with a green thumb having loved his orchards and gardens. He was an avid outdoorsman who enjoyed fishing, boating, golfing, and traveling. John was a member of the Putnam Lodge of Elks #574 and a lifetime member of the Eastern Ct Sportsman Club. John was the owner of Paquette Electric Co. Inc., which he started in 1979, and Hometown Self Storage of Woodstock and Pomfret. In his retirement, he started Paquette Seal Coating.
John loved nothing more than his family, friends, and 14 grandchildren. He would go out of his way and help anyone. Besides his wife Martha, he leaves his children, Terrence Paquette of Putnam, Kimberly Paquette Powell of Woodstock Valley, stepchildren Sierra Pacholski and her husband Stephen of Coventry, Cameron Backus and his wife Alyssa of Brooklyn, and Evan Reynolds and her husband Elrich of Pomfret, siblings Michael Paquette and his wife Patricia of Plainfield and Celeste Bernards and her husband Barry of Eastford. He also leaves his 14 wonderful grandchildren and many nieces and nephews. He was predeceased by siblings Michelle Dunn, Terrence Paquette, Daniel Paquette, and Charles Paquette.
Per John's request, there will be a private graveside service for family in April followed by a Celebration of Life at a later date. In lieu of flowers, donations may be made in John's memory to the American Cancer Society, 825 Brook Street, I-91 Tech Ctr. Rocky Hill, CT 06067-3045. Share a memory at Smithandwalkerfh.com