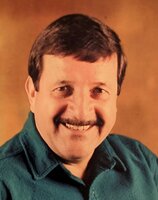 Rene G Glaude
Rene G. Glaude of Danielson, CT passed away on January 4, 2022, after a brief illness at Backus Hospital in Norwich, CT. He was born on June 15, 1939, in Moosup, CT, son of the late Joseph and Aurore (Bombardier) Glaude. Beloved husband of the Late Rachel Glaude who passed away in 2020 after 60 years of marriage.
Rene graduated in 1957 from the Vermont Technical School of Agriculture. Over the years Rene worked as a Real Estate Agent and as a car salesman but found his most success as a Real Estate Appraiser owning and operating Quiet Corner Real Estate Appraisal Service for more than 25 years. Rene lived on Woodward Street in Danielson for over 50 years with his wife and his 5 children. He was always considered a jack of all trades. When he built his home on Woodward Street, he did all of the electrical and plumbing work as well as building his many stone walls and later his Blacksmith shop. Rene enjoyed many hobbies over the years including: Collecting antiques, blacksmithing, stained glass making, and gardening. But he always held on to his love of farming. This was most apparent when one day in the early 2000's a 1954 model B John Deere tractor was delivered to his house. It was his pride and joy for many years. He would proudly park it on the front lawn, drive it around the neighborhood and give his grandchildren rides. He enjoyed his last official farm duty at his grandson's farm where it was his job to make sure the animals were well fed. When he was there the animals would all run to see him.
Rene is survived by his children Guy and his wife Linda of East Hampton, CT, Jeffrey and his wife Barbara of Simsbury, CT, Greg and his wife Tammy of Killingly, CT, Randie Long and her husband Ken of Danielson, CT, and Jamie and his wife Kari of Bloomfield, CT. His twelve grandchildren: Jennifer, Evan, Andrew, Eric, Alexa, Marc, Lindsey, Jason, Jessica, Gwendolyn, Parker & Jordyn, and his two great-grandchildren Riley and Ellawyn. He also leaves behind his Brother Ronald Glaude of Brooklyn, CT, sister Beverly Musial of Killingly, CT, and his Good friend Ann Arnold who he met at Westview Commons. He was predeceased by his Sisters Joyce Glaude, Claire Maynard, brother Lionel Glaude and his granddaughter Veronica Glaude. The family would like to thank all the staff on E4 and E3, and all the doctors, especially Dr. Luna. For your support and empathy at Backus Hospital for taking care of him.
A Mass of Christian Burial will be Tuesday, January 11, 2022, at 10:30 AM at St. James Church, Danielson, CT with burial to follow at All Hollows Cemetery, Moosup, CT. In lieu of flowers donations in his memory to the American Kidney Fund 6110 Executive Blvd., Suite 1010, Rockville, MD 20852. Share a memory at www.gagnonandcostellofh.com