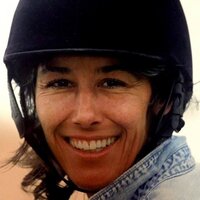 Jan Chambers
Jan Chambers, 59, of Dayville, CT passed away December 29, 2021 at home of natural causes. She was predeceased by her loving husband Terence "Terry" Chambers, and by her birth father William "Billy" Tharpe. Jan was born September 5, 1962 in Greenwood, SC and is the daughter of June "Savanna" Coldreck (Sivell) and Harry Charles Coldreck III.
Jan made her home in Killingly for over 30 years. She had a deep bond and love for the property, farm and home she and Terry built together. Many friends and family gathered there over the years to enjoy great conversations on the porch to the peaceful sounds of birds, nature and the lullaby of the falls below. Jan's greatest love was her amazing son, Terence, whom she gave all of her energy to and provided for with such courage after Terry's passing. "T" was truly the light of her life.
Jan had a deep passion for her animals including her faithful horse, Symba and her two rescue pups Mollie and Ollie. Jan was committed to finding homes for pets and was a fierce supporter of NovaStar Animal Rescue based in Dover, Arkansas. Jan loved to travel and made incredible memories during her trips to Africa with Terry and visiting friends in Mississippi. Everyone can agree that Jan was a no-nonsense straight talker, enjoyed her quiet time at home but also welcomed many friends unconditionally into her life, becoming a mentor to many. We will all miss Jan's unique way of telling a story that could have you laughing to tears. One of a kind, Jan's spirit will remind us of the gifts of life and the importance of opening your heart to those in need.
Jan leaves her son Terence Chambers, mother June "Savanna" Coldreck and her husband Rodney Boden, father Harry C. Coldreck lll and his wife Karen Long, sister Terri Coldreck and brother Harry C. Coldreck lV and his wife Juliette Coldreck, nephews Alden and Finn Coldreck, along with many lifelong friends and family throughout the East Coast.
Donations may be made in Jan's memory to NovaStar Animal Rescue, novastarrescue.com
A celebration of life will be held at a later date. Share a memory at www.gagnonandcostellofh.com