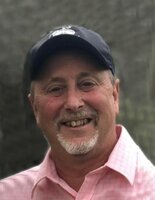 Gary E. Roy
Gary E. Roy, 61 of Thompson, CT passed away at home on November 21, 2021 after a more than two year battle with lung cancer. His loving wife and best friend of 28 years, Lori (LeBeau) Roy, son, Nickolas Roy, daughters, Maegan Roy & Kristi Langevin, and grandson Brayden Roy, surrounded him with unending love and support up to his final moments here on earth. Gary was born on January 27, 1960 in Putnam, CT to Lucille (Basinet) Daniels. His father, Eugene Roy, predeceased him in 2014. He is also survived by his sister Debbie (Roy) Barrette, half-sister Karen Roy, in-laws Richard & June LeBeau, and aunts, nieces, nephews, cousins and extended family.
Gary attended Putnam High School, class of 1978. After high school, he worked several different jobs until starting his 31 year career in the supermarket industry. Gary worked at First National, Park n Shop and ended his career at Price Chopper as an Assistant Meat Manager. He developed great friendships with many coworkers.
Gary was a huge sports fan and enjoyed watching the Boston Red Sox and the NY Giants. More importantly, he loved watching his children play sports and did everything he could to attend all their games to cheer them on. Gary was an avid Fantasy Football player, playing in multiple leagues. He also played softball for numerous teams in the local area in his younger years.
Gary's friendships are a testament to who he was and what he meant to all who loved him. He is survived and will be forever missed by many cherished friends, including Bob, Sherry, Joe, Dennis, Jimmy, Donny, Cliff, & Larry to name a few.
Nothing in life made Gary happier than laying by the pool with a Coors Light in his hand, vacations on OOB, and long motorcycle rides with his wife. He will forever live on in our hearts as a hard-working, caring, selfless, organized, & energetic social butterfly with a great sense of humor. He was a dedicated family man, cherishing time with his children and grandchild.
A funeral service will be held Saturday, December 4, 2021 at 10:30am at Smith and Walker Funeral Home, 148 Grove Street, Putnam, CT, followed by a burial ceremony at St. Mary's Cemetery, Providence Street, Putnam, CT. In lieu of flowers, donations may be made to the family's Go Fund Me page at https://gofund.me/6e1af33c.
Share a memory at Smithandwalkerfh.com