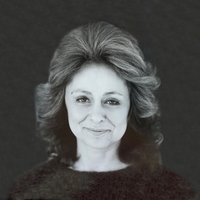 Eleni Yanouzas
Eleni Yanouzas, 89, of Hampton, CT, died peacefully Saturday, February 6, 2021 in the comfort of her home of 51 years after a lengthy illness. Eleni was born, July 29, 1931, and raised in Vandergrift, PA, where she met her husband, John.
After raising three children, Eleni fulfilled her lifelong dream by earning her bachelor of arts degree in theater cum laude from the University of Connecticut in 1982. While doing so, she also trained in London at the Royal Academy of Dramatic Art. Eleni was truly devoted to her community and family as exhibited by her directing numerous productions at Parish Hill High School, playing lead roles in productions of the Hampton Community Players, and serving on the town of Hampton's Board of Education and Recreation Commission. Eleni was also a 50+ year member of the Holy Trinity Greek Orthodox Church of Danielson, where she served as Choir Director and President of the Church Council. Eleni, lovingly nicknamed "The General", devotedly attended all of her children's and grandchildren's sporting events and recitals over the years. Rain or shine, she would always be there. In her retirement, Eleni enjoyed traveling the world. She was a huge fan of UConn Women's basketball and UConn men's soccer teams and would travel anywhere in the country to see them play and served as President of the Friends of UConn soccer under legendary coach Joe Morrone.
Eleni leaves her beloved husband John, of 66 years, daughter, Georgette and her partner, Mikey, her son, Niko and wife Tracy, and daughter Melina Garbrandt and husband Gary, as well as her three cherished granddaughters, Lauren Yanouzas and husband Michael, Nicole Yanouzas and Eleni Garbrandt as well as her brother Tony Nicholas and wife Debbie. Eleni is predeceased by her parents, George and Anna Nicholas, brother Pete Nicholas and sister Vangie Tarasis.
Due to restrictions caused by COVID-19, a private service will be held at Holy Trinity Greek Orthodox Church in Danielson, CT. In lieu of flowers, donations can be made to the Holy Trinity Greek Orthodox Church, 80 Water St., Danielson, CT 06239. Share a memory at www.gagnonandcostellofh.com