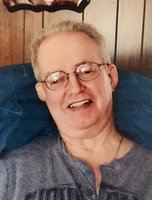 Michael J. Bernier
Michael J. Bernier, age 70, of 32 Carol Avenue, Danielson passed away Tuesday morning, April 28, 2020 at Day Kimball Hospital in Putnam of pneumonia after a long illness with MS. He was born November 28, 1949, son of the late Conrad Maurice Bernier and the late Marie (Francis) Paul Bernier and was predeceased by a brother Lawrence Bernier of CA.
He leaves behind a loving family, his wife Blanche M. (Briere) Bernier of 50 years July 4; two sons Michael D. Bernier and wife Victoria of Ella Bell, GA and Matthew D. Bernier and wife Jessica of Danielson, CT, one brother Joseph Bernier of UT, his grandchildren Jacob, Sarrah, Thomas, Katryna and Rene Bernier and step-grandchildren Majenta Sinardi of Brooklyn and Arron and Zachary Jenkins of Ella Bell, GA. Also many brothers and sisters-in-law and nieces and nephews.
Michael served 12 ½ years in the Military, four years in the Marines and 7 ½ in the Army. His last tour was Germany where he was diagnosed with MS, retiring with a full medical discharge.
His compassion in work and play was computers. His MOS was computer repairman and office repairman. He also got his electrician degree in the Military. He received numerous Military Awards throughout his career.
He went to St. James and Ellis Tech in Danielson, prior to going in the Military he worked for Senator Ferland of Danielson as a computer repairman. He went to computer schools all over the country for his trade both civilian and Military. Michael spent most of his married life with MS. 43 years, before his illness got worst, he loved to take his children Mike and Matt to work with him and they would play all day on computers. They were his pride and joy.
He also liked to fish and hunt. He liked bowling and playing pool. Later he loved spending time with his children, grandchildren, wife and families. Michael was a permanent member of St. James Church, The VFW in Putnam and the American Legion in Putnam. Michael will sadly be missed and remembered as a loving husband, father, pepé, brother-in-law, uncle and friend. His big smile, his kindness and loving compassion for others and his "fun kidding" shall be passed down and remembered for generations to come.
Burial with Military Honors will be held at a later date in a Veterans Cemetery. Share a memory at www.gagnonandcostellofh.com