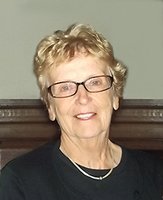 Maureen M. McMerriman
Brooklyn - Maureen McMerriman, loving wife of 58 years to Eugene McMerriman and daughter of the late John and Frances (Stelmach) McCormac, passed away at home on December 30th while surrounded by her family. Born in Webster, MA, Maureen grew up in Putnam and raised her family in Norwich before moving to Brooklyn to operate a business with her husband.
Maureen was a gracious individual who always put others before herself. She was quiet, sincere, and never had a bad thing to say about anyone. She was the heart and center of her family. Her love and compassion for her family was constantly shown, especially while she hosted her family's annual summer picnics, holiday gatherings, and numerous birthday dinners. Her integrity, love, and intelligence were known to all who knew her. Her selflessness and kindness will forever be an inspiration to her family who will miss her terribly.
In her youth, she loved to swim and ice skate and enjoyed sharing her passions with her children. She was a talented seamstress and well-known for her hand-made braided wool rugs. Maureen loved to bake and was famous for her Christmas cookies. When her sons were in their teens, they gave her the nickname, "Colombo", as she always had many questions for them about their whereabouts. She loved a good bargain and could never pass up a yard sale. Her hobbies included gardening, reading, supporting her grandchildren's athletics and following the UCONN women's basketball team.
She is survived by her five children and their spouses: Pamela (David) Goldstein, James (Kathy), Timothy (Nancy) and Michael McMerriman and Maureen (William) Roche, as well as grandchildren: Hannah, Kay, Brendan, Sean, Matthew, Michael, Ryan, David, Caitlin, Garrett and great grandson, Bentley. She was predeceased by her infant daughter Mary Frances, infant granddaughter Sarah, daughter-in-law Penny and brother Paul. She is also survived by siblings Kathleen Espinosa, John McCormac, Patricia Lohneiss and Jane Lopresti.
Starting at 10:30 am, the family will accept condolences prior to the 11:00 am Mass of Christian Burial on Friday, January 5, 2018 at St. James Church, 12 Franklin St., Danielson. Burial will follow at Holy Cross Cemetery. In lieu of flowers, please consider a donation to the St. James "Save Our School" Scholarship Fund. Share a memory at www.gagnonandcostellofh.com